Unleash powerful insights from any text or language
The power in Neurolingo's Mnemosyne™ text analytics platform comes from a highly modularized and easily maintained set of XML-based processing rules and analysis modules that break information in content sources down into their most basic language componetnts to place words and data in their proper semantic context. This allows the content extraction and language analysis rules of Mnemosyne to be adapted rapidly to any type of information presented to them, including unstructured and specially coded documents, to identify patterns that fit the logic and vocabulary of any topic domain, language, culture or industry.
The Mnemosyne text analytics platform can easily assemble complex maps of language rules that can be processed in parallel and scaled readily for large-scale sources and real-time information feeds. This enables Mnemosyne to process large amounts of information rapidly on any information processing platform and to deliver valuable data, reports, documents and summaries in any application format. Mnemosyne is a Java-based development platform that is adapted easily to any computer processing environment.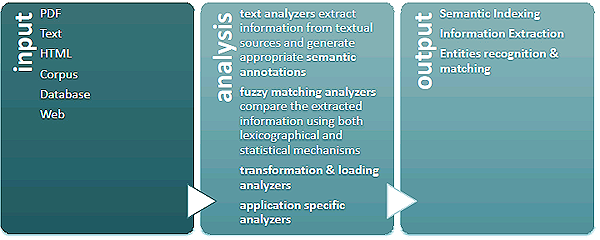 MnemosyneTM : Your text analytics powerhouse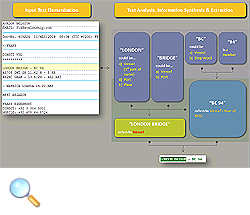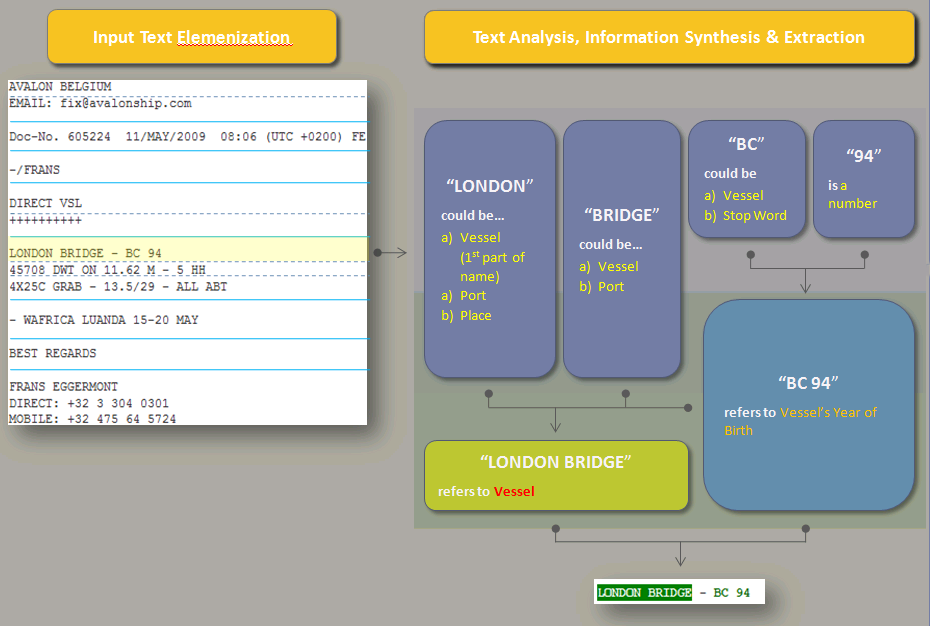 At the heart of the Mnemosyne text analytics processing platform are three key components:
Language resources identify and break down text into its elemental components. Language resources in Mnemosyne include a Morphological Lexicon, which identifies graphemes, orthography (letter sequencing), morphemes, morpheme-syntax relationships, style, topic domain attributes and more,combining to create a resource of many thousands of lexical units and millions of wordforms.
"Kanon" rules define the grammar of a given language or domain. Mnemosyne uses the Kanon semantic annotation rule language for the definition of syntax and grammar rules to extract information from textual sources. The rules are defined and maintained by an easy-to-use screen-based software interface. Because the Kanon is not tied specifically to the rules of any particular spoken or written language, Kanon rules can be adapted readily to any number of types of informaiton sources, including the interpretation of forms, domain-specific terminology and jargon.
Analysis modules extract higher levels of meaning from information packaged and structured by Kanon rules to create specific types out outputs such as data displays, reports, information extracts, indexes and references. The output of each analyzer can be filtered before it is used as input to another analyzer to simplfy and accelerate applications development. Analysis modiles incorporate adjustable text matching precision based on both semantic rules and statistical rules to ensure high accuracy in pattern and word extraction. Specialized analyzers ensure the transfer of extracted information to specific destinations and formats (e.g. XML, Database tables, etc.) and enable procsess monitoring and audting.
Using Mnemosyne software tools you can easily add, update and delete semantic rules and annotations created by its automated processes to maximize the quality and accuracy of the extracted information. With Mnemosyne it's simple to change both processing rules and output formats, making it easy to respond to both changes in text and language patterns and requests for enhancing data formatting in applications based on the attributes of extracted information, aggregated results, comparisons to other information sources or other processing rules. The result is a powerful, flexible and easily maintained semantic applications development tool, ready to meet your needs for software and services development.
See now Neurlingo's Mnemosyne development software can build powerful applications solutions tailored for your industry and your platform. More...